DRESS TO IMPRESS
Personalize your sofa, seating, and headboard styles with an amazing array of custom options available in our Design Centers.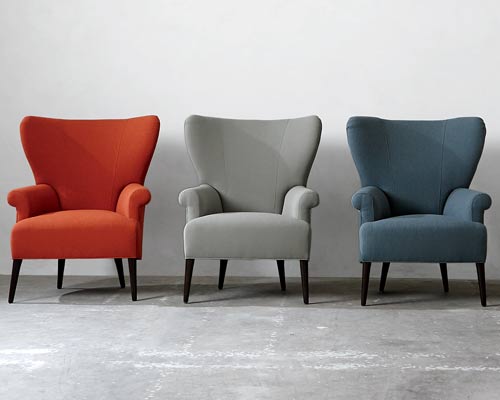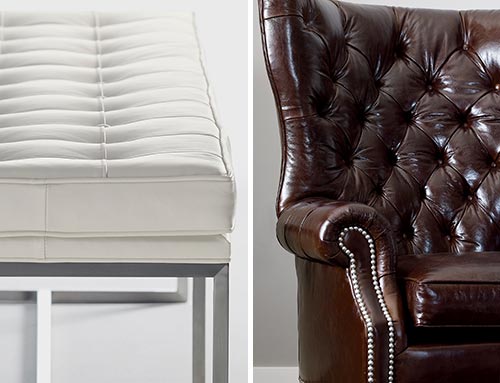 LEATHER LIBRARY
Versatile and enduring, leather adds classic beauty and luxurious comfort to your home. We offer dozens of premium quality, top-grain and specialty leathers in a variety of colors and fashions to create a leather look you'll love. See them online and at a Design Center. (Swatches are available!)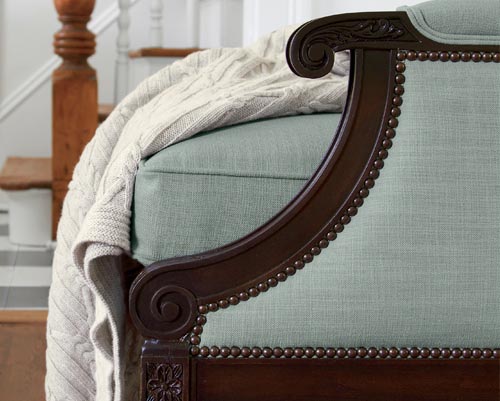 FINISHES
Exposed wood on your new sofa, chair, loveseat, or upholstered bed can be customized in your choice of dozens of hand-applied finishes, including sophisticated stains, stylish paint colors, and hand-distressed patinas for that special vintage look.
This timeless upholstery technique creates an unrivaled effect. On beds, sofas, loveseats, ottomans and chairs, there's nothing like it for a sumptuous touch. Our tufting includes biscuit, button, and diamond styles, depending on the piece, and it's all done by hand by our craftspeople, one stitch at a time.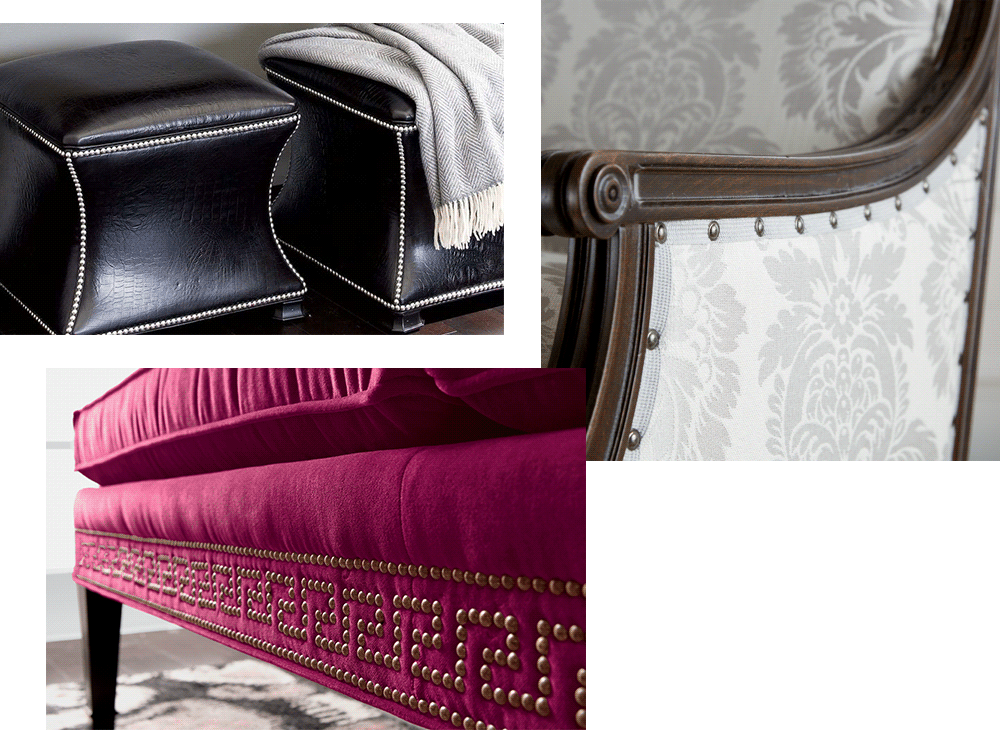 NAILHEADS
Nailhead trim gives your upholstery a distinct designer touch—and we offer a set of options that can truly make it special. Choose from several different finishes in a number of styles and patterns, including special ribbon and welting options, applied by hand in our North American workshops.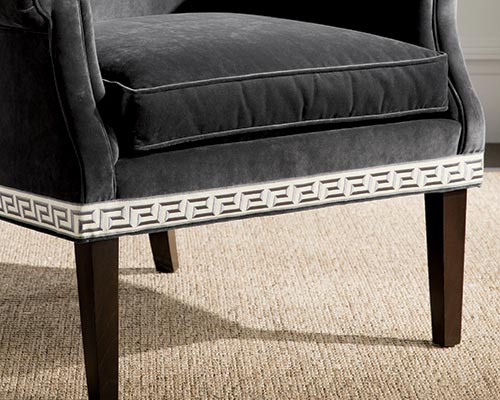 DECORATIVE TRIM
When it comes to personal style, the difference is truly in the details. Myriad of trim choices include chic appliques, decorative tapes, fringes, and braids to give your upholstery a one-of-a-kind touch.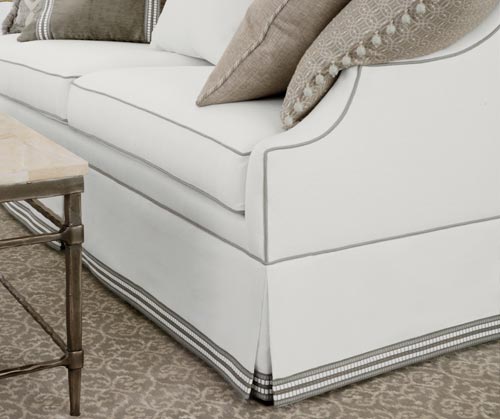 Slipcovers are the affordable way to fresh style in an instant. Ours are hand-tailored, fitted to our frames (so they'll always look neat) and available in a wide selection of versatile fabrics. A designer can show you which sofas, chairs, and ottomans they complement.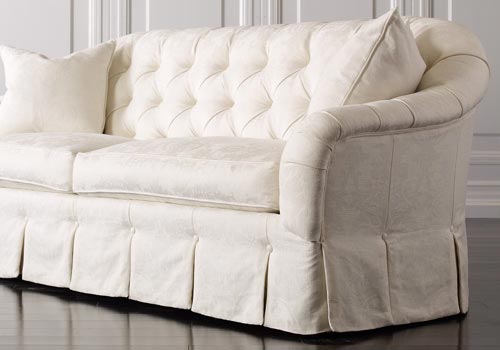 SKIRTS
Love the traditional look? You're not alone! A skirt is one of our favorite dressmaker details and its an option for many of our sofas, loveseats, chairs and ottomans. Ask about this fab fabric touch in kick-pleat and waterfall styles and more.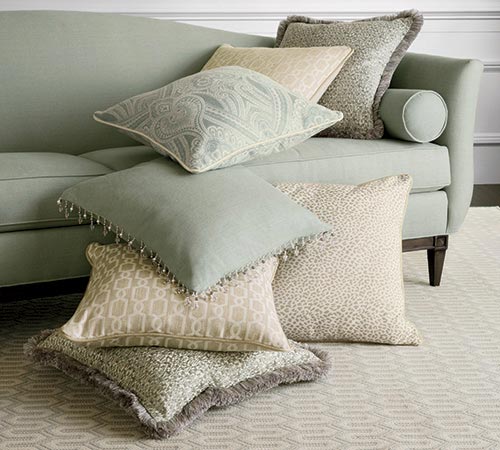 PILLOWS
Custom pillows can enhance your individual style and make for remarkable design moments. We offer thousands of fabrics plus fashion touches like piping, trims, and appliques make to make your one-of-a-kind creations.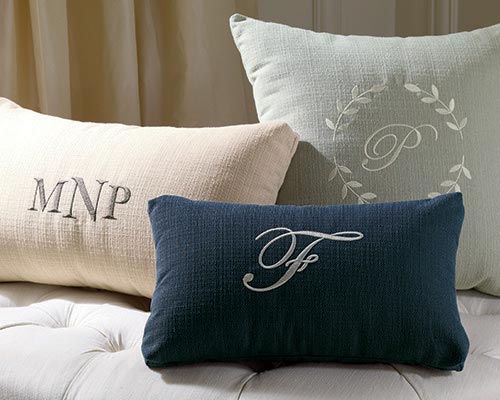 MONOGRAMMING
A monogram is a letter-perfect way to show off your signature style. Available on select fabrics in your choice of type treatments and 16 thread colors, monograms are added by our embroidery specialists in North Carolina.
Like style, comfort is personal. That's why we give you a choice of cushion comfort options. You'll find foam and fiber for firm support, featherblend for that great sink-in feeling and more. Stop in to test them out.
A Matter of Pride
Unlike many of our competitors, we make what we sell, and we make most of it in our own North American workshops.
Meet our Artisans
Our talented artisans steal the spotlight at the opening of our new Design Center in Manhattan. See them in action!
Delivering Excellence
No surprises. No "heavy item" surcharges. Just one low fixed fee and exceptional service.