How to Choose a
Dining Table
In many homes, the dining table is the center of the world. It's where people share meals, stories, and so much more—a backdrop for a lifetime of memories.

If you're looking for some help choosing your perfect dining room table, look no further! Our complete buying guide will give you the recipe to cook up the perfect dining table for your family.

HOW DO YOU KNOW a dining table IS HIGH QUALITY?
Here are some sure signs that your dining room furniture is built to last:

WHICH shape of DINING TABLE IS BEST: ROUND OR RECTANGULAR?
The best way to judge what table shape you need is to look at the size of your space.Are you filling a large formal dining room or tucking a table into your kitchen?
For Small Spaces
Round or square tables are great for cozying up in small spaces like a breakfast nook. Round tables are smaller and can fit snugly into a corner, but you'll lose some surface area for serving dishes by sacrificing corners. Both round and square tables make good kitchen tables for couples and small families.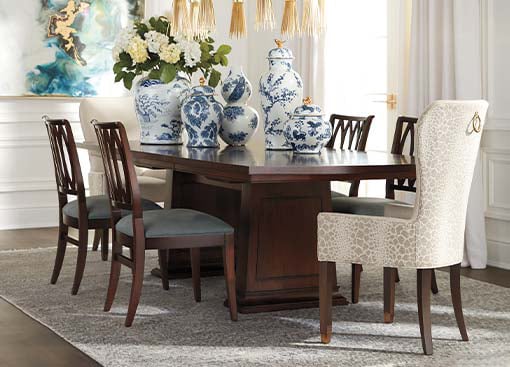 For Large Spaces
In a formal dining room or airy open floor plan, a large, rectangular dining table can seat your whole family and all your dinner party guests. It's easier to squeeze in an extra chair when the need arises, and these tables provide lots of space for serveware and décor.

WHAT SIZE TABLE do I NEED?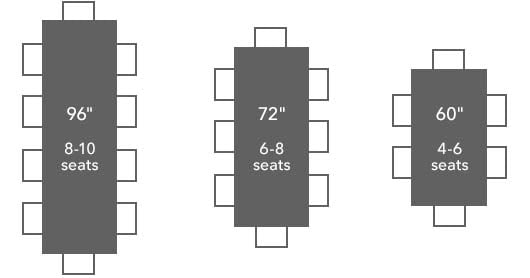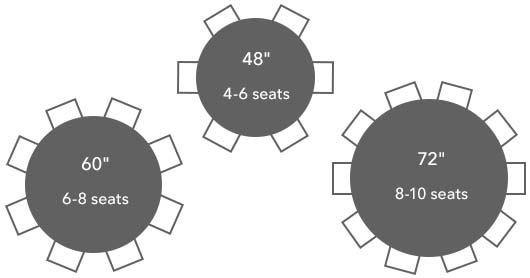 Plan for at least 3' of space between the table, the wall, and other furniture so people can flow comfortably through your dining space.
additional tips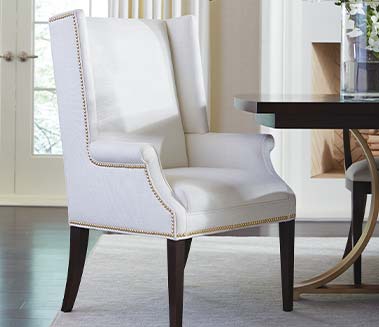 Maximize seating space for a rectangular table by using host chairs or armchairs at the head and armless chairs along the sides. Chairs for round and square tables should be armless to maximize comfort for everyone.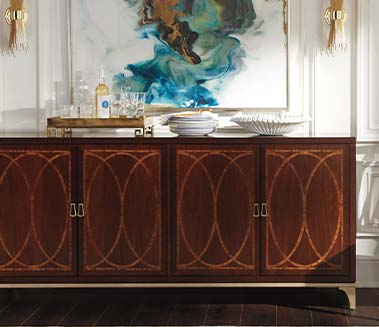 If you need more surface space for extra courses, select a larger table or opt for a coordinating buffet depending on what fitsbest in your room.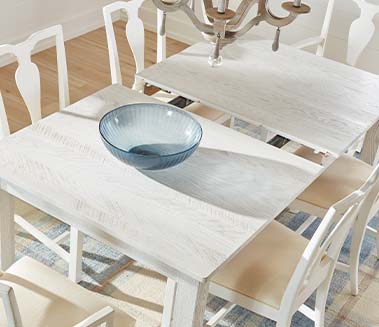 Need extra seats for special occasions? An extension table comes with a leaf or two, adding 2-4 extra seats. When you measure to see if your dining table will fit, consider its full extended length.

HOW DO I CHOOSE THE PERFECT TABLE STYLE?
The perfect table is a combination of many parts that come together just for you. Swipe through these images to choose your favorite design elements.

how can i customize my dining table?
From rustic family dinners to formal dinner parties, see how your choiceof dining table elements can set the mood.
choose your top style
Smooth Finish
In a formal dining space, choose a smooth top for a subtle, elegant look that's smooth to the touch.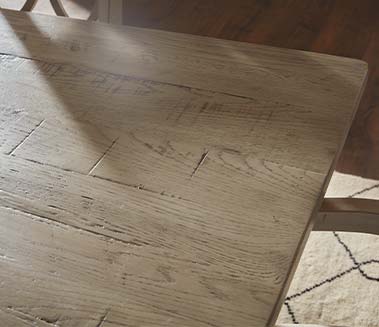 Rough Sawn
Give your dining room modern farmhouse appeal with a rough-sawn top where you can feel every grain.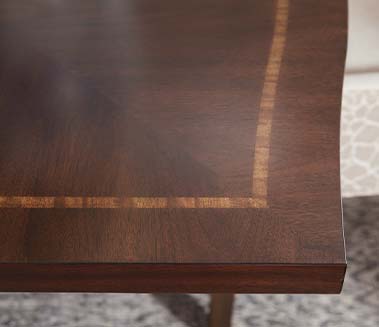 Veneer
Instantly elevate your table with sophisticated patterns ranging from timeless and formal to modern and luxe.
choose your finish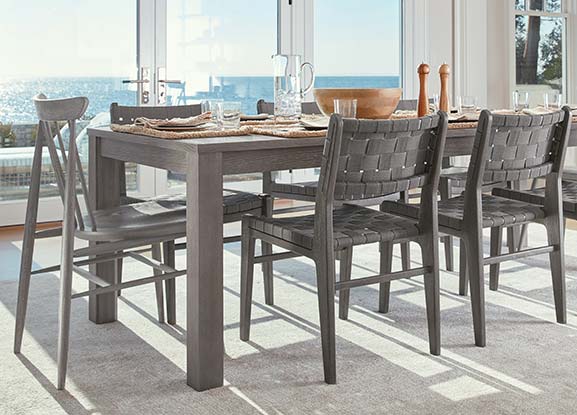 Light Neutrals
Light neutrals such as light brown, gray, or white create an airy, open look that's an inviting canvas for your favorite statement décor or casual family dining.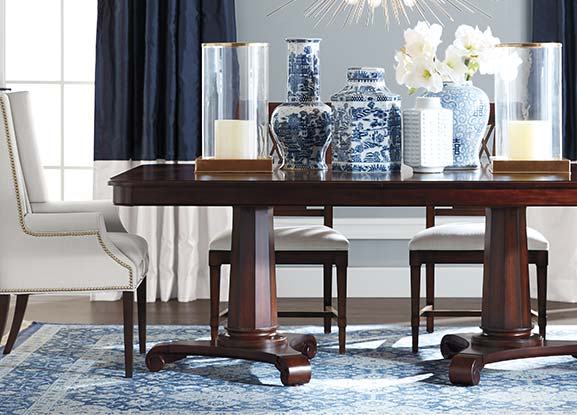 Dark Neutrals
Dark brown and black are classic dining table color choices for a reason. They're formal, refined, and create a grounded look that draws eyes toward where people gather: at the table.
Can't decide on color? Choose a dining table with a two-toned finish. The base and top will coordinate instead of match.
what if every detail were chosen by you?
Will you set a modern farmhouse table? An intimate breakfast nook? A formal dining space for large families? Visit our Custom Dining Table page to choose every element of your table, and the master artisans of Ethan Allen will craft it in our own North American workshops.

HOW DO I KEEP MY TABLE LOOKING TOPS?
Watch this video to see our expert tips for protecting your dining table and visit a Design Center to ask about a custom‑fitted table pad.